Run the Globe Sticker Set
$12.00
Description
RUN the Globe – Help spread the word and rep our global event with this 3×3 in sticker!
40,075 – You are helping us circumvent the entire globe – 40,075 km! Mark your car or water bottle with pride for contributing to this global event for domestic violence survivors with this 3×5 in sticker.
Speak Your Truth – Speak Your Truth Today is a 501(c)3 nonprofit amplifying the voices of victims and survivors of domestic violence. Spread the word of our mission with this 3×3 in sticker!
Speakerphone – This 2×2 in speakerphone sticker is to encourage you to speak your truth!
That's Not Normal – Help educate those around you about abuse with this 3×3 in sticker that includes the domestic violence hotline phone number.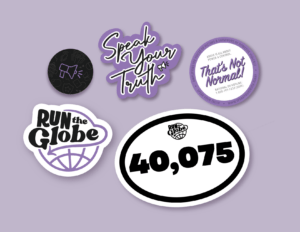 Only logged in customers who have purchased this product may leave a review.